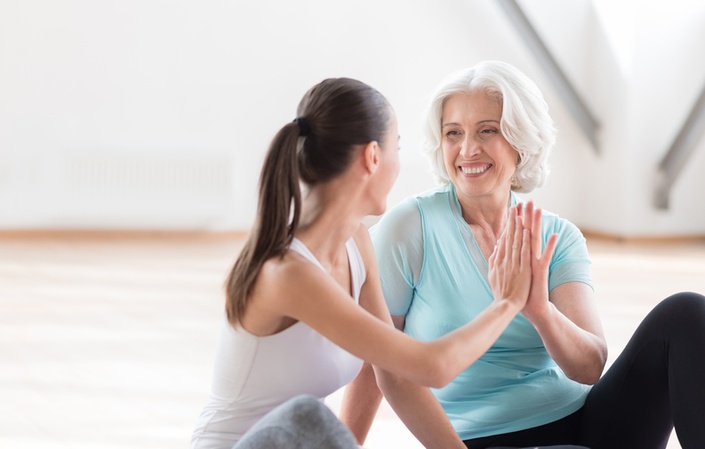 Your Healing Yoga Practice
Transform your day with Healing Yoga Practice that fits your schedule
"Yoga teaches us to cure what need not be endured and endure what cannot be cured." ~BKS Iyengar, BKS Iyengar (2015).
Healing is different from fixing and it's an inside job.
If you are looking for a framework to organize the healthy things you're already doing as well as those you plan and seek you are in the right place.
If you have been overwhelmed with choosing where to start or the right practices for your situation, you are in the right place.
If you are radiantly healthy and want to experience and understand the principles of effective yoga practice, you are in the right place.
If you know that you have the power to balance and heal from within in an organic way, over time, in a way that supports the medicine you receive from your health care team, you're in the right place.
If you want to have actionable steps to implement these powerful principles and the research that supports them, this is your course.
If you want personal support in applying the principles of healing yoga to your own current practice, this is your course.
If you're a teacher and want to expand your ability to support your clients with the principles of healing yoga, this is your course.
This 3 week, interactive course is based on the first 3 principles outlined in the Yoga Sutras, wisdom reaching back millenia, and now being supported with research into the efficacy and mechanisms of these practices.
"The [Foundations of Healing Yoga] workshop was above and beyond what I expected."
- Megan, long time yogi
"I realized how important it was to design a home yoga practice and you provided lots of guidance as to how to do that."
- Libby, Foundations of Healing Yoga Workshop
This course is appropriate for beginners and experienced yoga practitioners alike who want to create a healing practice based on your own personal needs.
Each week we'll meet via zoom on a one and a half hour video conference call (recorded so you can view if you can't attend live) with a short introduction to the principle of the week and dive into applying it to particular situations - yours if you'd like to share and receive the personal attention. Whether you share your particulars or not, you'll see how the principles can be applied to your own yoga practice so you can create organic transformation in your life and health.
The 6 principles of Healing Yoga are the principles I've used to support my own healing from intense trauma, birth defects and the supposedly chronic illnesses that predictably follow, according to research that lead to the ACE test. This course will briefly explore the foundation (removal of obstacles) and the first three principles: Practice, Sensation and Containment and True core.
I've tested these principles with my clients over more than a decade of teaching and practice. Based on what we have seen, success depends on these factors:
regularity

starting where you are

15 minutes most days of your personal practice

1-3 hours of classes per week to expand, deepen and share your practice

a curious and questioning outlook

sincere desire to own your wellness and embrace your agency in long term healing
Clients report their personal practice helping with knee and hip injuries, arthritis, stress, hormonal balance, anxiety, shoulder mobility and pain, neck and back mobility and pain, patterns of tension going back to childhood, easing grief, helping with digestion, creativity and focus.
"Over the past year of doing yoga with Christine...
• Much less knee pain while sleeping and walking
• I walk more upright, no more limp from right knee being bent
• No more sleeping pills and NSAIDs at night
• Improved feeling of balance
• Improved flexibility
• Improved strength
• I can do planks
• I can get on and up from the floor more gracefully than last year
• I feel empowered - I no longer feel like I am approaching handicapped
• I can use any public restroom stall, no more preference for handicapped stall
• I sleep better
• I have less hip pain
• I can go up and down stairs with both legs instead of only using my right leg
• I no longer refer to myself as an arthritic old lady"
~ Janice S., Engineer, Mom
"I started yoga with a general goal to become healthier and have achieved so much more balance that translates to my everyday life. I always feel better when I leave and notice gains in balance and strength almost every week." ~Dianna, retired surgeon, world traveller
"My private yoga lesson took me to the next level! I have so much more freedom and articulation through my upper back!" ~Heidi, automotive business owner, gardener, yogi
This course is NOT right for you at this time if...
You are looking for a fix, cure, pill, procedure or healer to change you.
You don't have 15 minutes 3 days a week to devote to self-care.
You need immediate results beyond what you feel.
You want to replace medical care.
You're looking for an exercise only program.
You're not willing to experiment with quiet for 15 minutes per week.
Self-study isn't something you value.
That's Okay! We'll be here when it is time.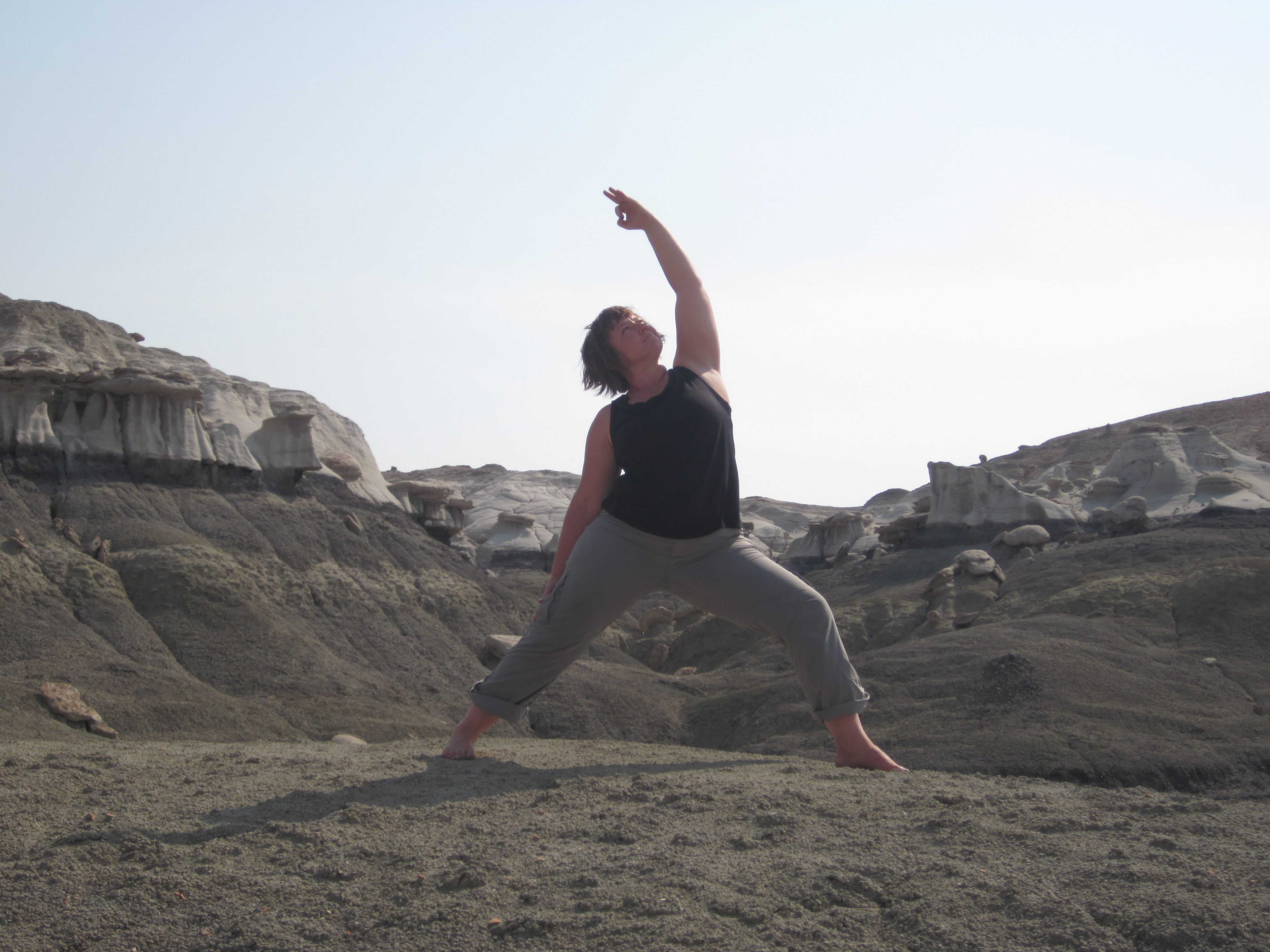 This course is based on the 6 factors most crucial in my own healing from arthritis due to birth defects, PTSD, severe allergies and even cancer, in concert with western allopathic medicine. I no longer have arthritis - not supposed to be possible, no longer suffer from the deleterious effects of past trauma, take any allergy medicine available in the drug store and have reversed a precancerous condition in my uterus found while undergoing treatment for breast cancer. While I had surgery and conventional radiation for my breast cancer diagnosis, my follow up treatment is all complementary and based on these 6 factors.
Your Instructor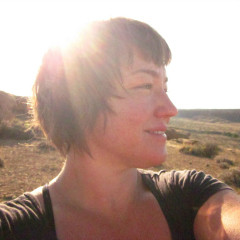 I teach and practice Healing Yoga - no TM :) - which focuses on the 6 things that make yoga a healing practice: interior sensation, yoga shapes as containers, breath as the engine of movement, true core, focus + flow and rhythm (dinacharya and rutcharya, or the routines that support our circadian rhythm).
At Badlands Yoga we share the most effective tools for focus, balance, strength and stress reduction in practices designed to give you what you need to act from your most authentic, healthy self - even in the most stressful situations.
My previous life as a paramedic allows an intimate understanding of the anatomy and physiology that guides every class, pose, technique that I share with you.
You don't have to be flexible - or anything else - to do yoga: yoga helps you become those things.
Frequently Asked Questions
When does the course start and finish?
The course will launch on October 9th, 2019 and end October 23rd, 2019. Video calls will be on Wednesday mornings at 9am MDT. Supplemental practices and some articles available upon enrollment, weekly calls will be posted in the course so you can attend with everyone regardless of your schedule, leave comments and ask questions. Enroll now, you'll have enough to start with, then ask your questions in the comments. You'll receive a link for the call the day before - attend the call to get in depth attention and have a chance to be the case study of the week. ALL questions asked before the call will be answered in the call. So if you can't attend live, watch on your own schedule, and provide more info or ask follow up questions in the comments on the video. Either way, you'll create your own healing yoga practice starting the very first week!
How long do I have access to the course?
How does lifetime access sound? After enrolling, you have unlimited access to this course for as long as you like - across any and all devices you own.
What if I am unhappy with the course?
We would never want you to be unhappy! If you are unsatisfied with your purchase, contact us in the first 30 days and we will give you a full refund.
The course will launch in October 5th, 2019 and end October 19th, 2019. Video calls will be on Saturday mornings at 8am MDT. Supplemental practices and some articles available upon enrollment, weekly calls will be posted in the course so you can attend with everyone regardless of your schedule, leave comments and questions that I'll answer over the course of the week.
Transform your yoga practice and your life now! Sign up for this 3 week appliation of the principles of healing yoga to your own life!