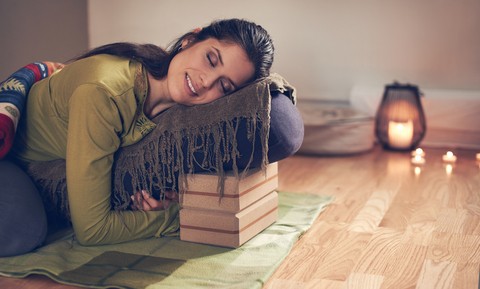 Restorative Yoga consists of a very few postures, all using maximum support. In a restorative class you use lots of bolsters, blankets, eye pillows and create a shape that supports your body for maximum relaxation. The difference between restorative & any other style of yoga is both intensity of effort and duration in poses. Rather than working with muscular opposition, hugging in, radiating out, spirals, loops, etc you create a space for your body to melt into the pose. The time spent in both preparation and melting can more greatly emphasize the already meditative possibilities in asana practice. It's useful to warm the body up to the practice with chandra namaskar, aka moon salutations.
At least one practice a week should be restorative. The effects of restorative practice are hormonally supportive,
metabolically positive
, meditative, stress relieving, rejuvenating and can supercharge your regular practice.
---